Or maybe "really dumb." I admit that there are many pedagogical examples to chose from, but I think the tale about this group of Somali pirates in a skiff may be the best of the lot: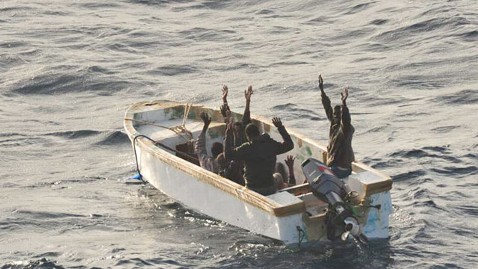 These guys saw a ship in the early dawn light not to far from Mogadishu. So they did what Somali pirates do and opened up both the throttle of their outboard and also opened fire from their small arms. I suppose it is never funny to be fired upon, but one has to believe that the seamen on the targeted ship were at least a little amused. You see, the target was the Spanish warship
ESPS Patino
. Technically, the Patino is more than just a warship, it is the flagship of the EU's fleet carrying out counter piracy missions off West Africa. Oops. The Patino returned their small caliber fire with what I have to believe was a notch above small caliber and launched a helicopter to round them up. I am giving these idiots the nod as being even stupider that the pirates who attacked the French flagged warship
Somme in 2009
for two reasons: there were two outboard boats attacking the Somme, plus it
was
a French ship. With two skiffs they had at least a little chance.